Pop culture is everything to me.
To me, pop culture is: everything relating to television, movies, celebrities, music, and the history of it all…rather broad, but you get the picture, right?
There are few things I love more than television.
Too many underrated television characters, particularly Queer, that don't get enough recognition for how memorable they are. So often the same LGBTQ shows get highlighted along with the same characters over and over again.
I have taken it upon myself to share with you all the gems of the Queer TV character icons that I adore.
Elektra (Pose)
At first Elektra was not my favorite character on this show, not even close. Then I re watched season one and recognized her for the true icon of a character she is. The latest and final season really gave us a glimpse into the depths of Elektra (which was also probably my favorite episode of this latest season). Let me be honest though, Elektra wouldn't be Elektra if it wasn't the fabulous Dominique Jackson playing her.
Jake Rodriguez
(Tales of the City 2019)
I love the majority of the characters in the most recent adaptation of Tales of the City (based off of the series of books by Armistead Maupin) and the actors who play them. For me though, it is the depth of Jake's character and his journey throughout the miniseries that made him stand out for me. The actor who plays Jake in Tales of the City, Garcia, really has a way of making you fall in love with their character…or maybe that was just me.
Alice (The L Word)
Everyone may think of Shane or Bette or Tina or Bette and Tina when they think of the L Word…but without Alice, would there even be an L word? There is so much to love about Alice with her humor and quirks. She loves hard, really hard and there is something relatable about that. Leisha Hailey is a gem, and she continues to portray Alice in the L Word Generation Q where she is still just as lovable as ever.
Noah (Noah's Arc)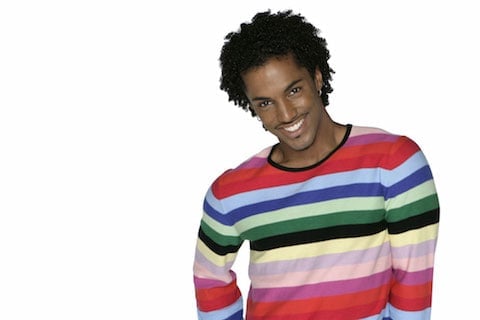 Noah's Arc was actually a quarantine binge last year from my partner and I. Neither of us had ever seen the show before, but got instantly hooked and then instantly sad because there are only two seasons (and you can no longer get the movie that follows it up). All of the characters within the show are likeable, but Noah is a stand out in my eyes. Darryl Stephens portrays Noah in a way that you are always hoping things work out for him in the end.
Marco (Degrassi)
Too often the Canadian show about ALL the teen issues to ever happen and I mean ALL of them goes forgotten. Unless of course you remember where Drake really started from or you watched his latest "I'm Upset" video where fans of Degrassi got the brief reunion we all desperately, secretly, yearn for. I don't think it would be possible for me to write a list of TV Queer icons without mentioning Marco. He was my introduction to a younger gay person learning to discover, accept themselves, and be proud of who they are.
Alice (Good Trouble)
Yes, another Alice. This may be just because I love Sherry Cola (the actor who portrays Alice), but ultimately she is one of the greatest current Queer characters on TV right now. Alice is charming, funny, and quirky (there must be something in the character name). For me, when a character feels like you wish they were your best friend in real life – you know the writing & actor portraying the character have done their jobs.
Kay
(Banana ep 6 ..also featured in
Cucumber eps 7 & 8)
This is really just because I love T'Nia and everything she ever acts in (Also see her in two of my personal favorites – Years & Years and Bly Manor). There's this Queer butterfly flutter that happens when you watch an actor in a Queer role and then also discover they themselves are Queer…that definitely happened for me after watching the episodes with Kay in them.
Emmett (Queer as Folk US)
Queer as Folk may be outdated in many many things, but there is no denying how lovable Emmett is. After I finally sat down to watch the series a couple of years back, each episode always left me wishing Emmett was my best friend. Once again, when this happens in a show you know the job was done right. Plus, the actor who portrays Emmett also created one of my favorite shows The Fosters which also brought us Good Trouble (remember Alice from earlier in the list?)…see everything comes full circle.
Micah (L Word Generation Q)
One of my graduation gifts from grad school last year was a cameo from Leo Sheng who potrays Micah in the L Word Generation Q…because my partner knows how he is my favorite new character in the reboot series. I geeked out to say the least. The character of Micah brings so much joy to the new series – between his friendship relations and his romantic relations …he really is the most likeable, relatable new character in Generation Q.
Titus
(Unbreakable Kimmy Schmidt)
Last but certainly not least..because there was no order to this list. The comedy, the broadway-esque spontaneity, the radiance…he really is a stand out character throughout the entire series. Not to mention a loyal friend to Kimmy through and through. Without Tituss Burgess the character of Titus Andromedon would not be as flawlessly spectacular as he is.
Who are some of your favorite Queer TV Characters? I would love to hear, let me know below in the comments!