*Sometimes you want to go where everybody knows your name…*
the theme song that most people know, even if they've never seen the iconic television series it belongs to.
Just last week I had the privilege of receiving the vaccine, and let me just say that the second vaccine shot knocked me out for four days. In those days that I was stuck in bed – for the most part I was in and out of sleep. So, I needed to find something to watch that didn't require too much of my attention.
By the title it isn't hard to guess what I decided to watch – an old favorite of mine, Cheers…and yes when I watched it for the first time as a kid it was re-runs on Nick-at-Nite.
Anyway, for years (before instant access to Google and wondering these things solely in our minds) I had always wondered why they switched out Shelley Long for Kirstie Alley. Never thinking too much into it because at the young age I adored both actresses (Shelley for her appearances in Troop Beverly Hills, Brady Bunch remakes amongst others..and Kirstie mostly for It Takes Two which I had on repeat)
Re-watching the series and now having access to the internet with the energy I did muster to Google what had happened all of those years ago I had uncovered all of the controversy that was entangled within the show.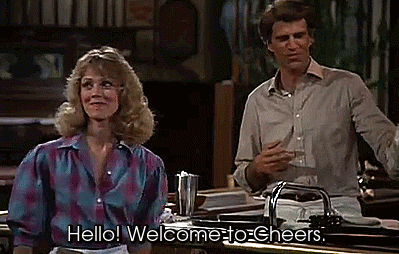 Knowing what I know now and the experiences I have had thus far in this lifetime, I watched the show this time in a different lens. Here are my thoughts broken up into bullet points:
The amount of misogyny in that show is just…gross. But it was expected for/a product of the time period…I'd like to point out what I believe to be the underrated funny characters of Diane Chambers and Carla Tortelli. Seriously, close your eyes. Now try to imagine Cheers without those two characters. Is it even worth watching?
I loved Fraiser as a kid – mostly because I adored the female characters in the show and his Dad who always sat on the couch. Rewatching Kelsey Grammer's character in Cheers and reading articles of how he would bash Shelley Long..on top of some absurd excerpts from his memoir? The character of Fraiser was not comically better than Diane Chambers, so I don't understand the comparison between the two- or why his character was seemingly more beloved over her at the time (enough to get one of the most successful spin-offs in TV history…like…what?). Lilith (Bebe Neuwirth) was the best thing about Fraiser.
One thing that is certain: there is a difference between the first five seasons of Cheers when Shelley Long is there and all of the seasons after. The chemistry between Ted Danson and Shelley Long is there and it is in our faces- the two play so well off of eachother (the characters relationship itself is toxic, but the natural chemistry of the actors is undeniable). I never noticed the obvious difference between the replacement of the two actresses when I was younger – in fact I think I adored Kirstie Alley seasons more so. But noticing how well the character of Diane bounced off the characters that surrounded her with such effortless comedic timing was undoubtedly missing from season six on.
In all of my pondering about revisiting shows I used to love and recognizing the cringe worthy parts – I am aware that it doesn't take away what the show once meant to me. However, it is important that we recognize the problematic things that were once considered "okay".
The history of television shows is proof that change, evolution, and learning from our past is necessary.
One docu series that had me especially hype recently was Visible: Out on Television on Apple TV. There were five episodes total in the series, and it was validating for me as a Queer person who loved television growing up because it looked back upon television and the Queer history within it. Television was my comfort zone and where I often saw a reflection of myself or pieces of who I wanted to become.
Another show that made a comeback on Paramount Pictures new streaming service was the original Real World Homecoming. After having just watched the original series over quarantine last year and recognizing the importance of the conversations that were had on that show way back when (okay okay it was just the 90s..). Bringing the show back now for a reunion, felt vital to revisit those conversations on race and privilege for the world to witness in current time. These conversations are important to have, and television has the power to bring that dialogue into our homes.
With all of this, I didn't think I could write this piece without acknowledging the devastating hate crime (calling it what it is) shootings last week. The attacks in Atlanta are heartbreaking and add to the truth of racism that has been in existence in this country since it was stolen from Native Americans. However, more recently it has been highlighted in the media due to the deaths that happened last year that had people finally waking up to protest for Black Lives Matter.
I have not always been a great ally or advocate, but the important thing that I have gained over the years is that we learn, we listen, and we do our part in stopping the continuance of the racist happenings around us.
Personally, I am on my own journey of learning and listening to be a better advocate and ally to Black, Indigenious, People of Color. The attacks last week that I mentioned earlier were intentionally hate filled and as a result eight people lost their life – specifically six Asian women. History is repeating itself, and we are living history – the time to do something is/was yesterday, today, & infinitely.
I have been voicing to Stop Asian Hate, and that doesn't feel like enough – because it is not. Donating is ONE of many things allies can do – so here are a few organizations just to name a few: APIENC, CAAAV, AALEAD, NQAPIA
To circle back to the start of this piece….television is where we learn many things, especially windows into other cultures and peoples lives. My brain wanders..like A LOT at all times…. and all of the above has had me thinking, because in a way all of this feels like it intersects (because it does).
What we once knew is not always truth, and sometimes actually harmful- we just don't always recognize it at the time. Or like I once learned: I don't know what I don't know.
So, when we do know or learn – it is our responsibility to ourselves and the world we live in to acknowledge that things change.
Change is good.
We can appreciate something for what we once loved and knew it to be – with also acknowledging it is problematic.
Do we really want to be caterpillars our whole lives, or wouldn't we rather all evolve into butterflies?